Engaging students and other visitors through special collections exhibitions.
The Emory Libraries Stuart A. Rose Manuscript, Archives, & Rare Book Library promotes access and learning, equity and justice by documenting, preserving and making accessible distinctive and diverse collections and records and fostering original research and critical engagement with the past by engaging diverse communities through innovative outreach, programming, and exhibitions. Relative Scale was tasked with creating two interactive media installations to support the Library in this mission.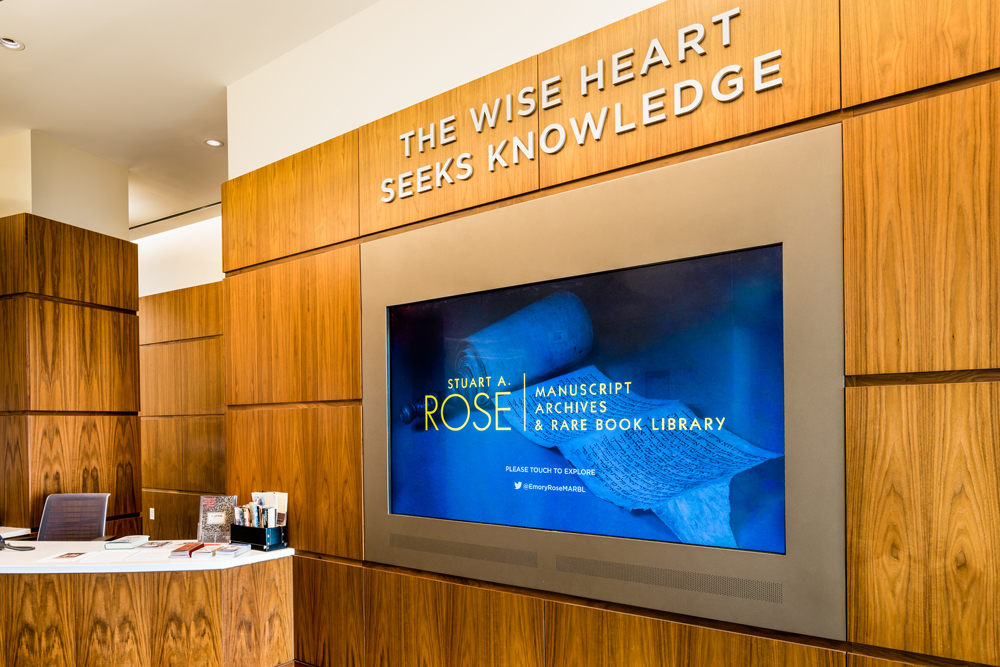 The Introductory Interactive greets visitors when they step off the elevator in the lobby of the Library. This media experience offers a variety of content to guests, including featured artifacts from the Library's seven collections, original videos explaining the significance and purpose of each collection, a timeline that details the Library's collection history, special events information, and a wayfinding map that helps visitors find offices or meeting rooms.

The Connect with the Collections touch table allows curators to create thematic stories from the Library's holdings. Photographs and videos from across the collections are organized into a narrative format for guests' interpretation. Guests can also share the assets with their friends by emailing them in a digital postcard.
Project Team
Exhibit Design:
HealyKohler Design
Exhibit Fabrication:
Malone Design/Fabrication

AV Integration:
Malone Design/Fabrication