Learn about Georgia's oldest and largest industry and discover ways to get involved.
Built in 1889, the Georgia State Capitol is a symbol of the state's reemergence after the Civil War. And as a National Historic Landmark the Capitol continues to be one of the most impressive and iconic buildings in the state. The Georgia Capitol Museum preserves, interprets, and shares the history of the Georgia Capitol building and the state legislature. Relative Scale was tasked with helping tell the story of Georgia agriculture in a new exhibit that explores the heritage of this essential industry, and connects its past with its present while framing the resources, labor, and technology that will define its future.
Agriculture is the economic engine of Georgia. And it starts with one. One person. One seed. One idea. To help propel the industry forward, the youth of today must feel inspired to get involved and become the next generation of Georgia agriculture leaders. With education, historical appreciation, and access to opportunity, they will become industry stewards who will work to ensure its continued prosperity.
This media experience is designed for urban schoolchildren who may not yet understand how Georgia agriculture has a direct impact on them, and how they can get involved. The program serves as a call-to-action to participate in agriculture by engaging the audience through a series of educational videos and games.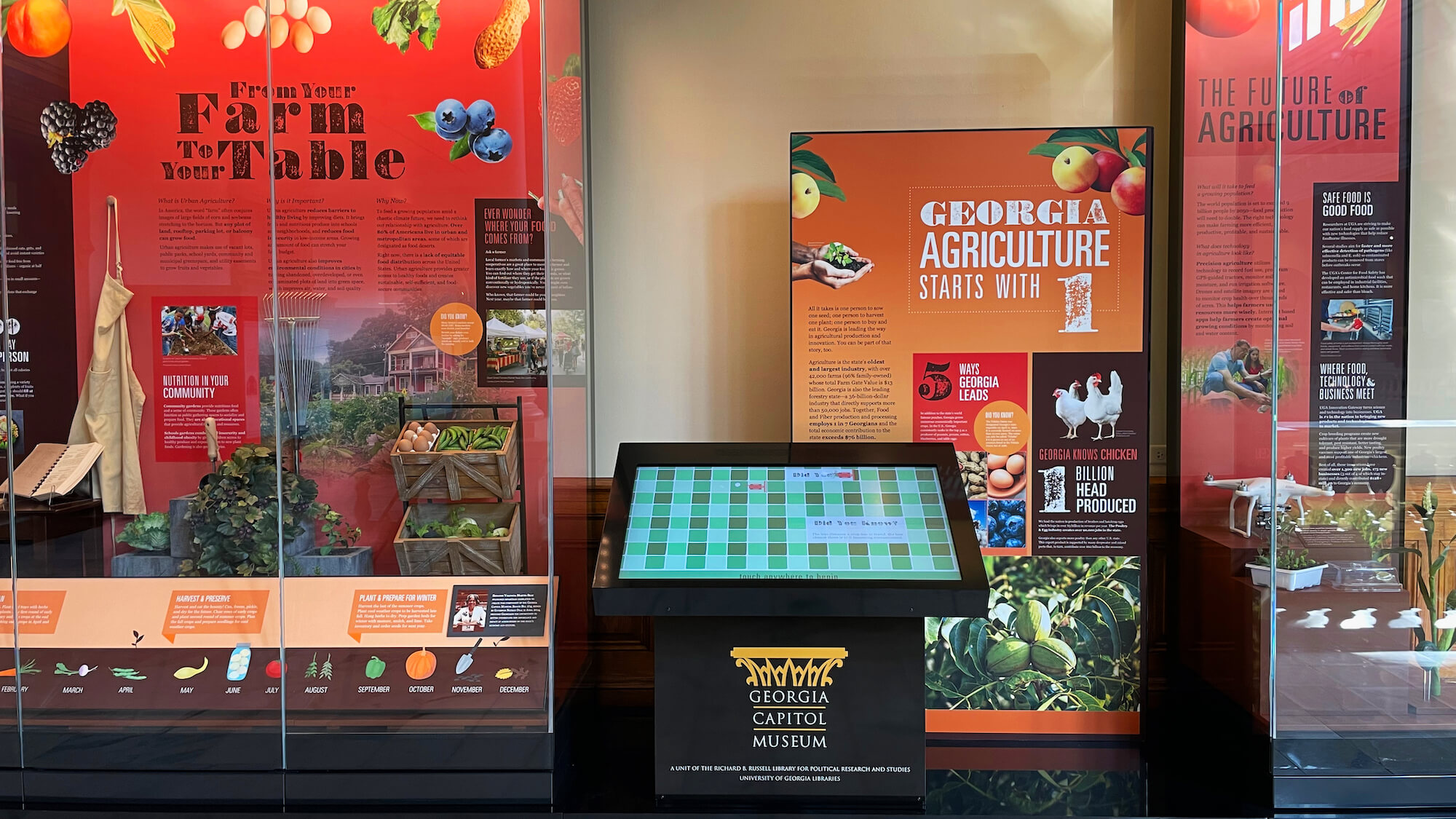 The media teaches the young audience about the life cycle of farming: planting, nurturing, harvesting, and consuming. Each of these four stages provides a timed game and supporting videos. The videos feature interviews with experts in community gardening, tower farming, agricultural technology, and the farm-to-table restaurant business.
Each stage also includes fast facts to share more information about Georgia agriculture. Topics include types of crops grown in Georgia, employment in the agriculture industry, use of technology, and the benefits of eating fresh, locally grown food.
Project Team
Exhibit Design:
HealyKohler Design
Exhibit Fabrication:
1220 Exhibits
AV Integration:
1220 Exhibits