Celebrating a uniquely American company and product.
Located in South Pittsburg, Tennessee, Lodge Cast Iron has been producing heirloom-quality cookware for over 125 years. In that time, the Lodge brand has proceeded to represent more than just the products the company creates. The newly imagined Lodge Museum of Cast Iron offers visitors the opportunity to immerse themselves in the history of Lodge, the behind-the-scenes making of its cookware, and explore cast iron cooking and its significant cultural impact. Relative Scale created three interactive experiences for the museum that help celebrate Lodge Cast Iron and its uniquely American story.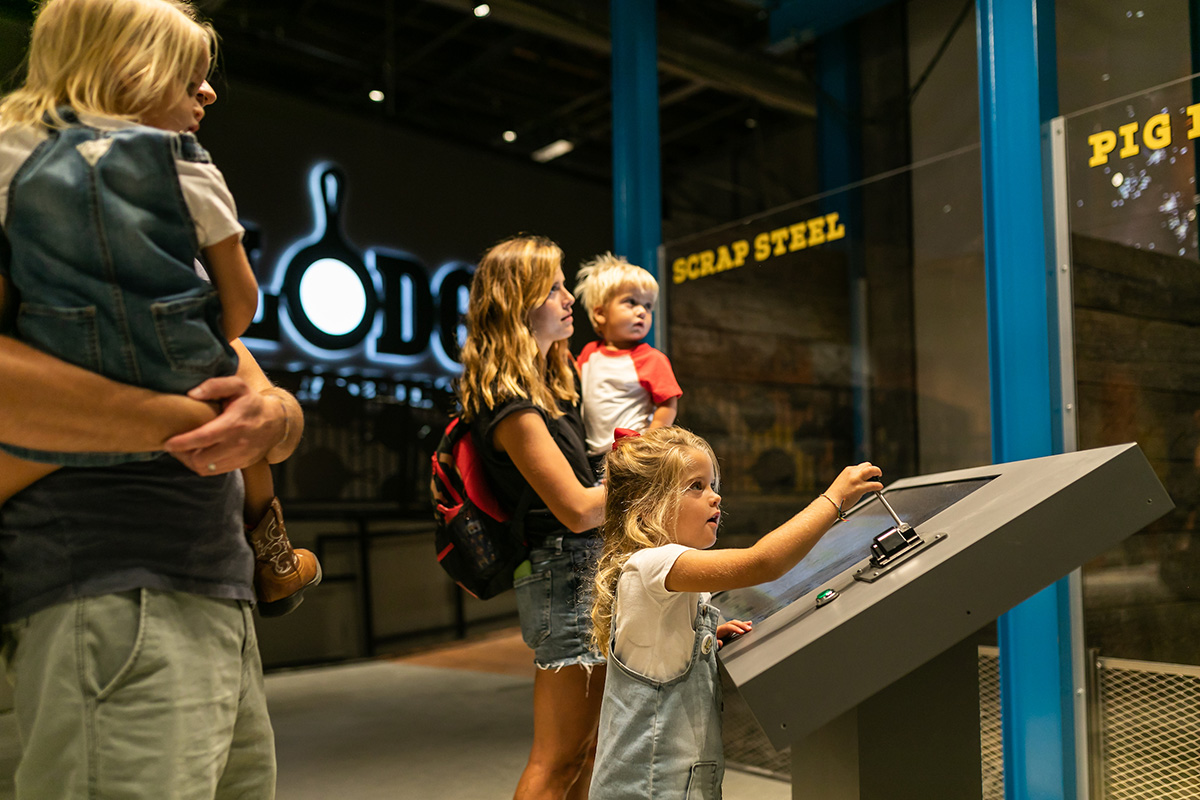 In the How It's Made gallery, the Raw Materials interactive explores the unique combination of ingredients that goes into every Lodge Cast Iron skillet. In this scenic recreation of the Lodge foundry, guests use a joystick to operate an active electromagnet to collect the various raw materials. On the touchscreen, a digital magnet follows the movements of the physical magnet, and as materials are collected, content specific to each one explains its role in the skillet production process. Guests fill the furnace to complete the activity.
Meals created with Lodge Cast Iron are as memorable and acclaimed as the cookware itself. The Create Your Own Cookbook interactive in the Southern Cooking gallery allows guests to browse recipes prominent in southern cuisine, add their favorites to a personalized digital cookbook, and email a copy to themselves. The recipes, curated by Lodge Cast Iron and the Southern Foodways Alliance, are categorized by four foodways: Appalachian, Soul Food, Saltwater South, and Cajun & Creole.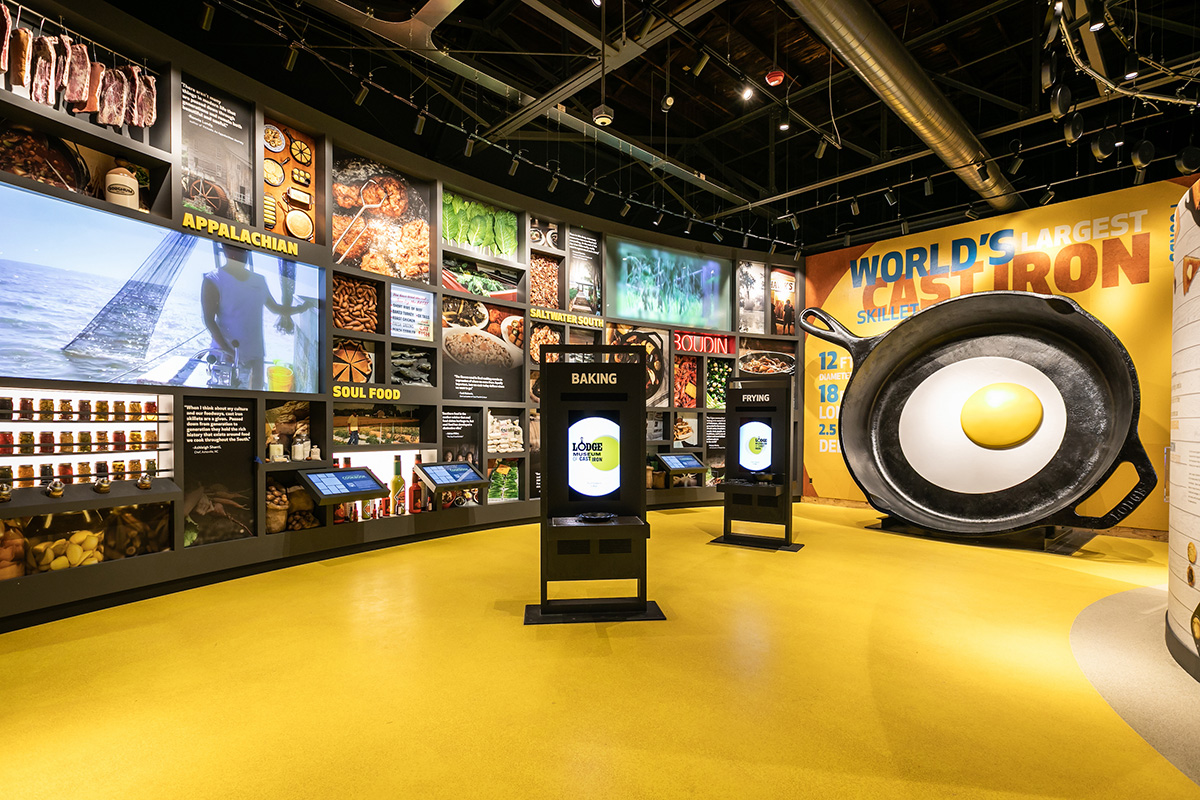 Passed down from generation to generation, Lodge Cast Iron cookware is with us for some of the most memorable moments in life. In the Your Cast Iron Story gallery, guests are directed to share their own cast iron memory by responding to a series of prompts. As they answer, associated imagery layers onto the page, forming a scrapbook-style collage that is unique to each individual story. Stories are emailed to the guests, and then collected and displayed within the museum-becoming part of the larger Lodge Cast Iron community.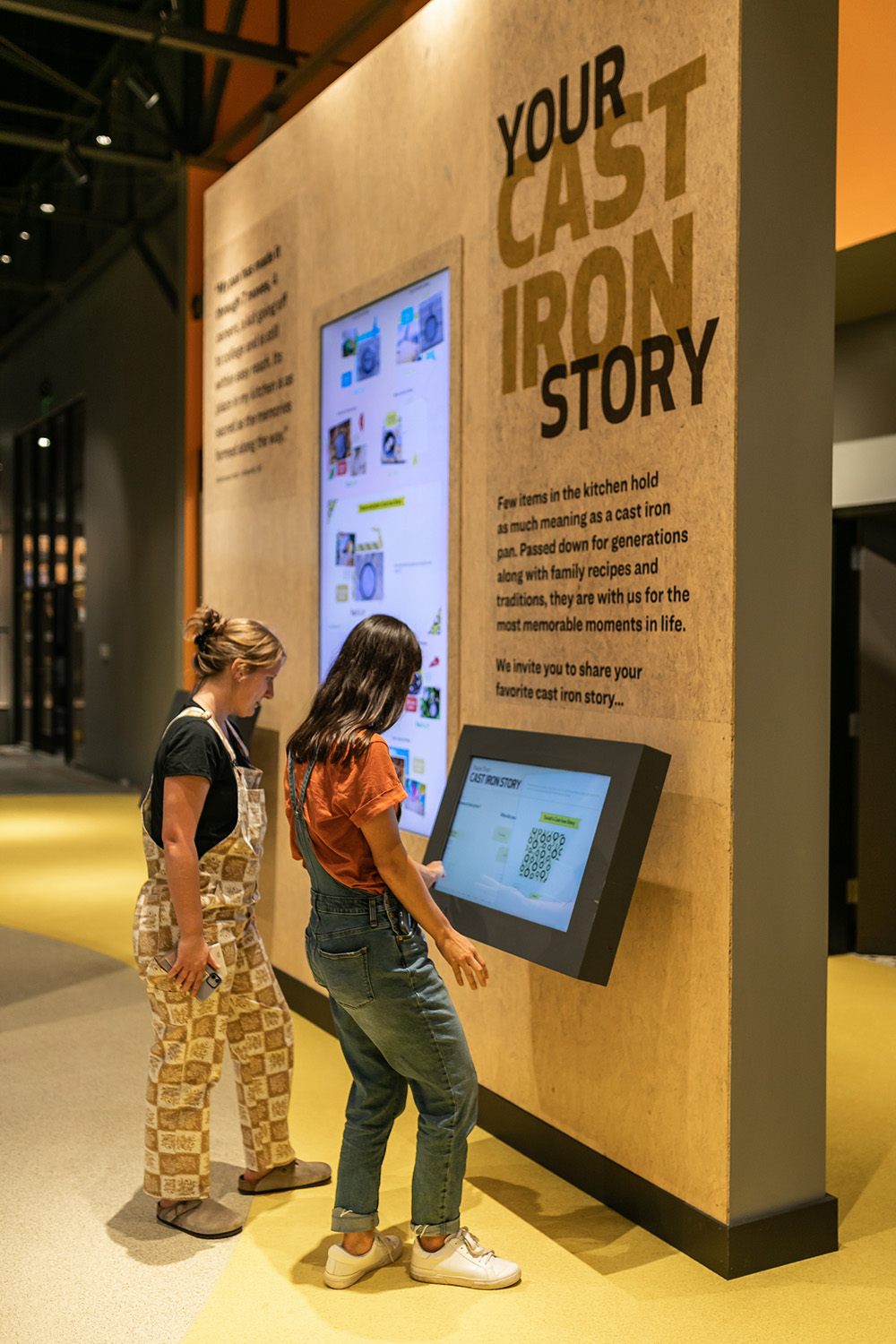 Project Team
Exhibit Design:
HealyKohler Design
Exhibit Fabrication:
1220 Exhibits
AV Integration:
1220 Exhibits